Introduction
By the end of summer, children will have been effectively out of school for five months, "if" schools open on schedule. Lack of adequate instructional time-on-task and long breaks in learning are extremely damaging to students, especially low-income students. Extended education inactivity can cause mental "atrophy." The longer the inactivity, the greater is the knowledge that is lost, and learning capability is diminished. Superintendents are already familiar with "summer slide." Studies show, children in 3rd to 5th grades lose on average about 20 percent of their school-year gains in reading and 27 percent of their gains in math during summer break. That will likely be dramatically exacerbated this year.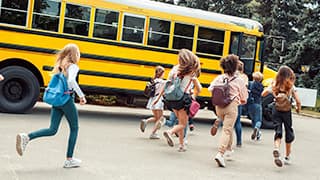 Webinar
Ask the Expert: Bringing Students Back-to-School Following a Crisis with Paul Vallas
Join us June 16 with Paul Vallas as we explore strategies for providing a safe and secure school reopening.
Learn More
One must also not underestimate the potentially catastrophic impact extended school closings are having on our poorest children. In 2018, almost 30 million students relied on schools for breakfast or lunch. These students are also more likely to lack adequate access to online learning resources and technology. Even if those items are donated or supplied by a school, this is not a guarantee of personal resources adequate for effective home learning environments. For many low-income students, schools are their safe havens and centers of social service support. Yet, out of necessity, forty-four states have directed that schools be closed for the remainder of the academic year.
The damage that has been done to all students may never be reversed unless schools embrace a comprehensive strategy to put infrastructure and protocols in place to avoid further disruptions next year, and take steps to compensate for lost instructional time over the summer.
What follows are key steps to reopening schools with utmost safety in advance of vaccine/treatment.

Re-engage students and families over the summer and make preparations for a school year that may look and feel different, but delivers its core functions with maximum safety
Embark upon a school or district-based COVID-19 (COVID) public education & health campaign
Create local school "Health-Safety Teams"
Develop the capacity to conduct school-based COVID testing and tracking
Schools need to have the capacity and protocols for dealing with students and staff who have COVID symptoms
Establish and enforce strict quarantine procedures and facility sanitation protocols
Adopt and enforce practical comprehensive social distancing strategy
Accelerate the push for every school to offer quality remote learning & support
Comprehensive teacher and school staff supports must be determined and designed to help school personnel adjust to the "new normal" and focus on instruction and support
Secure and support the technology infrastructure

What follows are a number of suggestions for each of the ten identified steps above.

Re-engage students and families over the summer and make preparations for a school year that may look and feel different, but effectively delivers its core functions with maximum safety. Extended school closures not only result in mental atrophy, but also in damage to physical and mental health. This is especially true for low-income or otherwise vulnerable students who rely on schools for nutrition and safe harbor, and who need more instructional time-on-task. The summer months must be used to help repair the damage. The immediate strategy is to locate and engage all students in every system, whether district, charter or nonpublic, while preparing schools to receive them when public health officials determine schools should re-open. The long-term strategy is to customize education and supports to improve efficiency and effectiveness, while ensuring school systems are prepared for further disruptions. Components of such a strategy include the following: Before re-opening schools:

Reconnect and engage those students/families who have "gone off the grid," i.e., not responding to teacher outreach, not picked up a device, not attending "class," failing to complete assignments, etc.
Extend food and health care services to low-income students and their families over the summer
Establish 24/7 "hotline" (phone, email, and/or school-based social media platform) which provides a vehicle for students and/or families in need to ask for help and for intelligence to be gathered anonymously
Provide students with summer instruction (summer semester) and enrichment activities and support to prevent further brain atrophy and social-emotional health deterioration − blending both online and remote activities and support
The summer months can be a time for teacher training and preparation to support remote learning
The significant increase in gun sales since the onset of COVID, and a likely increase in mental illness caused by the massive economic trauma and fears, requires upgraded school security plans. Upgrade school facilities security: entrances, cameras, student and visitor tracking mechanism, and exterior security (cameras and street closings)

Upon re-opening schools:

Assess students to determine their level of academic proficiency, as well as behavioral and emotional needs
Use the assessments to develop a more personalized approach to instruction and student support, and determine the appropriate interventions using the RTI model
Begin moving toward a more personalized "mastery approach" using technology to support more individualized instruction and learning
Use online learning to provide re-teach opportunities while also expanding educational choices, instructional time on task and enrichment

Embark upon a school or district-based COVID public education & health campaign An active, fully transparent communication strategy is required to: (1) provide updates on public health status; (2) effectively communicate school procedures and protocols; (3) alert schools of students or faculty exhibiting COVID-19 symptoms or testing positive; and (4) promote proper health-safety behavior in the community. School and central office staff are among the most trusted people for students, parents and families. School systems can help limit the impact of COVID by influencing their communities, especially young people, to follow CDC recommendations both in and out of school. Critical partners in the public education campaign should include the following:

Critical city agencies
Local school councils
Parent-Teacher Associations
Teachers and other employee unions
Prominent community organizations
Social media platforms for communicating with parents and the larger school community

Create local school "Health-Safety Teams" Each school should have a Health Safety Team (HST) that reports to the principal and is led by a nurse and/or a retired physician. The HST should be drawn from the larger community for testing purposes. The HST should be guided the city or county health department(s). Potential participants on the HST include the following:

Nurse, consulting physician, trained medical assistant
Retired health care workers
Advanced college and university healthcare majors
Para professionals (parents and community members)
City/County Health Department medical liaisons
External partners (hospitals and community clinics)

Develop capacity to conduct school-based COVID testing and tracking Testing, as well as temperature checks, need to be available at every school site for staff, children and, if needed, families. Schools should also have the capacity to assist public health agencies in "contact tracing." School administrators staff need to be tested first. A suggested testing approach is as follows: Testing approach

Testing should begin no later than two weeks prior to the start of the school year
Testing all faculty and staff followed by the testing of students. Optional school-based testing could be offered to family members
Systemic, periodic temperature taking of asymptomatic students and staff:

Temperature taking a condition of returning to work for faculty and staff
Request parents to sign a permission slip at the beginning of the year allowing reasonable periodic temperature taking
Optional school-based testing could be offered to family members

Negative results communicated electronically; positive results communicated directly
Contact tracing for school staff and students who test positive
Work with each principal to prepare schedules for testing:

Conduct tests by classroom (elementary) and by homeroom (high school)
K-12 tests two grades each day
High school tests two grades each week

When testing indoors, isolate testing to an area out of the flow of school foot traffic. No one should be permitted to enter who is not being tested or working the testing site
Separate test-takers in the waiting area
Limit the number of people to be tested during any period based on medical advice
Two-week quarantine or a longer length requested by local health care professionals

Schools must develop capacity and protocols for managing students and staff who exhibit COVID symptoms. Guidelines should include the following

Post alerts such as signs and posters in strategic places in the facility with details of symptoms and instructions for students, parents and staff
Advise parents to regularly check their children's temperature and to advise them they should put on a cloth face covering, regardless of symptoms, before leaving their home. (e.g., via texts or robocalls)
Instruct parents to notify the school if their child has a fever or symptoms of COVID-19 (including cough or shortness of breath, sore throat, or systemic symptoms like myalgias or chills) They should immediately contact their health care provider or be connected to one through the school. Under no circumstances should they come to the school campus
Instruct parents to immediately notify the school if a non-student member of their family tests positive (parent sibling, grandparent)
Onsite HST and/or school-based health care providers (school nurse) trained to conduct a temperature check or a COVID test on duty at all times, as reasonable
Students and/or staff with sudden onset symptoms must immediately be placed in separate isolated area until they can safely depart the premises
PPE must be kept stocked on campus, even on non-testing days, in the eventuality that sudden onset cases develop during business hours and a minor student needs supervision until a parent or guardian can pick them up
If the examiner is not using a "touchless" system of screening or temperature checking, he or she should change gloves with each new patient

Establish and enforce strict quarantine procedures and school disinfectant protocols School policies should include quarantine for staff and students who test positive. Students who exhibit COVID symptoms must be removed from school by a legal guardian, and staff must adhere to strict building sanitization protocols to minimize the spread of the virus. School protection essentials include the following:

Older teachers and those with underlying medical conditions could initially remain home while younger teachers and children return
Two-week quarantine or longer duration recommended by health care professionals for staff or students testing positive
Contact tracing and optional testing for family members for staff and students testing positive
Remote instruction and support for those students in quarantine
Re-test and temperature monitoring of returning staff and students
Strict adherence to the CDC guidelines for keeping facilities clean and disinfecting areas after suspected/confirmed COVID case
Seal/Close areas visited by ill persons. Open outside doors and windows and use ventilating fans to increase air circulation in the area
Wait 24 hours or as long as practical before beginning cleaning and disinfection
Cleaning instructed to focus extra attention to high use areas
Assign one member of janitorial staff to repeatedly and methodically wipe all door knobs and handles multiple times a day
Liberal placement of hand sanitizer dispensers – every classroom and strategically placed in school common areas
Upgrade all bathroom hand soap to antibacterial soap and instruct teachers to periodically demonstrate proper hand-washing protocols − especially in the lower grades. Install picture-based posters in all student bathrooms

Adopt and enforce practical comprehensive social distancing strategy There should be common sense procedures for social distancing that minimize contact and provide safe spacing. This includes classroom seating, lunchrooms and common spaces, physical education, movement between classrooms and during student testing. Split scheduling and blended (onsite and online) learning can minimize contact. Areas of focus include the following:

Split-scheduling combining site-based and remote learning (especially appropriate for secondary schools)
Classroom seating
Social distancing in lunchrooms and common spaces
Class size limits and in-class distancing
Minimizing student movement
Physical education protocols
Supervised recess to ensure social distancing and develop structured activities for students to run and play (outside dance parties, Simon Says, etc.) that can be orchestrated minimum six feet apart
Designated isolated testing and screening areas
Designated quarantine areas for students and faculty with sudden onset COVID-19 symptoms

Accelerate the push for every school to offer quality remote learning & support Developing "Remote Learning Platforms" should be schools' overriding objective in the summer months. Not only will this ensure educational continuity, but it will provide the means to increase learning time, expand educational choices, extend academic and social-emotional interventions and provide additional teacher supports. Building a comprehensive remote learning capability requires the following:

Identify competencies to be prioritized and determine how to best deliver instruction for those first
Identify the needs of teachers to facilitate digital or blended learning options
Provide teachers with online training and retraining opportunities as well as teacher coaching and mentoring
Ensure that all teachers have access to appropriate and effective curriculum and instructional models and materials
Assess teacher and student access to devices and the internet. Disseminate devices and support with access to internet service as needed
Ensure that guidance is provided to support the unique needs of students who require additional support including, but not limited to, students with disabilities and English learners
Develop a plan for technical support for families, possibly including a remote call center for technology questions and technical assistance
Provide teacher/student interaction through online platforms, phone calls, office hours, or homework hotlines

Comprehensive teacher and school staff support are needed to help school personnel adjust to the new normal and focus on instruction Teachers and school staff have not been immune to the impact COVID-19 has had on their health and the health of their families, finances, job security, and their general way of life have likely been adversely impacted. Schools also need to attend to teacher and school staff needs to enable them to adjust to the "new normal" and continue to provide quality instruction and support. These needs are as follows:

Effective communication must be a top priority during this time. Once the school system has finalized its staffing plan, it should develop a clear communication plan to inform all staff of the expectations for their service, and to create opportunities for ongoing communication
A plan to provide the system with budgetary stability and predictability is critical, so teachers can plan effectively and deliver instruction with minimal disruption
Gather the system's key leaders to design an informed staffing plan that enables the schools to operate in the new normal
Ensure faculty and staff compensation is not interrupted. If there is potential for interruption, transparency is mandatory to reduce uncertainty and anxiety
Clear priorities and expectations for all employees including consistency in scheduling and the assignment of specific tasks
CDC aligned protocols for employee health and safety
Reasonable flexibility for employees who need child care coverage or those who have been exposed to the virus
Reasonable flexibility for teachers and employees who are over 50 or have underlying conditions

Secure and support adequate technology infrastructure All students should have access to a device and reliable internet, now more than ever. Student access to technology enables continuous learning and in the (new) normal can: (1) minimize common disruptions like "snow days;" (2) serve students who are absent from school for health reasons; and (3) expand educational offerings, services and support. The basics to building a quality technology infrastructure include the following:

Identify which students do not have access to the Internet and/or a device. You may have already surveyed your families. If not, we have created a survey that you can leverage.
Formulate a plan to provide connectivity for students who do not have it, including distributing hotspots to families
Choose a plan that best fits your needs. Internet Enabled Device (All in One Device): A device that would provide both Internet access and Wi-Fi (T-Mobile, Empower Ed)
Determine which device to provide students with spotty or limited access at home. Consider protective add-ons and one-stop management for the device
Select devices that can be bought or leased with a three-year hardware with in-home/onsite service after remote diagnosis
Order device using consortium pricing directly through the manufacturer/reseller (Dell, DETEL, HP, etc.)

Determine how to provide technical support for devices
Investigate the cost of insuring devices − at minimum ensure costs for lost or damaged leased devices

"Shared School District Support Help Desk" to support parents and students with questions for any school-issued device
Create and maintain a distribution log with accurate parental contact information and a recovery plan for students who no longer need a device, move out of district, or matriculate

Parental sign-out form
Acknowledgement that devices supplied by the district remain district property and must be returned to the district in good condition
Instructions and/or orientation on device use, i.e., proper care, proper charging, kept away from liquid, secured at all times (not left in autos or book bags left unattended, etc.)
Acknowledgement that school will be notified immediately if device is damaged, lost or stolen

Create a standardized policy for repeated offenses with regard to district-owned devices. Clearly and diplomatically communicate the policy in advance

---

Paul G. Vallas is a former Chicago budget director and CEO of Chicago Public Schools and Superintendent of the Louisiana Recovery School District responsible for reopening and rebuilding schools after Hurricane Katrina.

Written in conjunction with the National Education Support Network.

---