A clean, well-lit place for your searches
The first thing you'll notice is a brand new layout which offers a clean look and feel no matter what device you're on, laptop, desktop, tablet or phone. After a lot of time spent researching, performing user testing and looking at how people interacted with search previously, we repositioned some items and added some features to really improve the ease of use.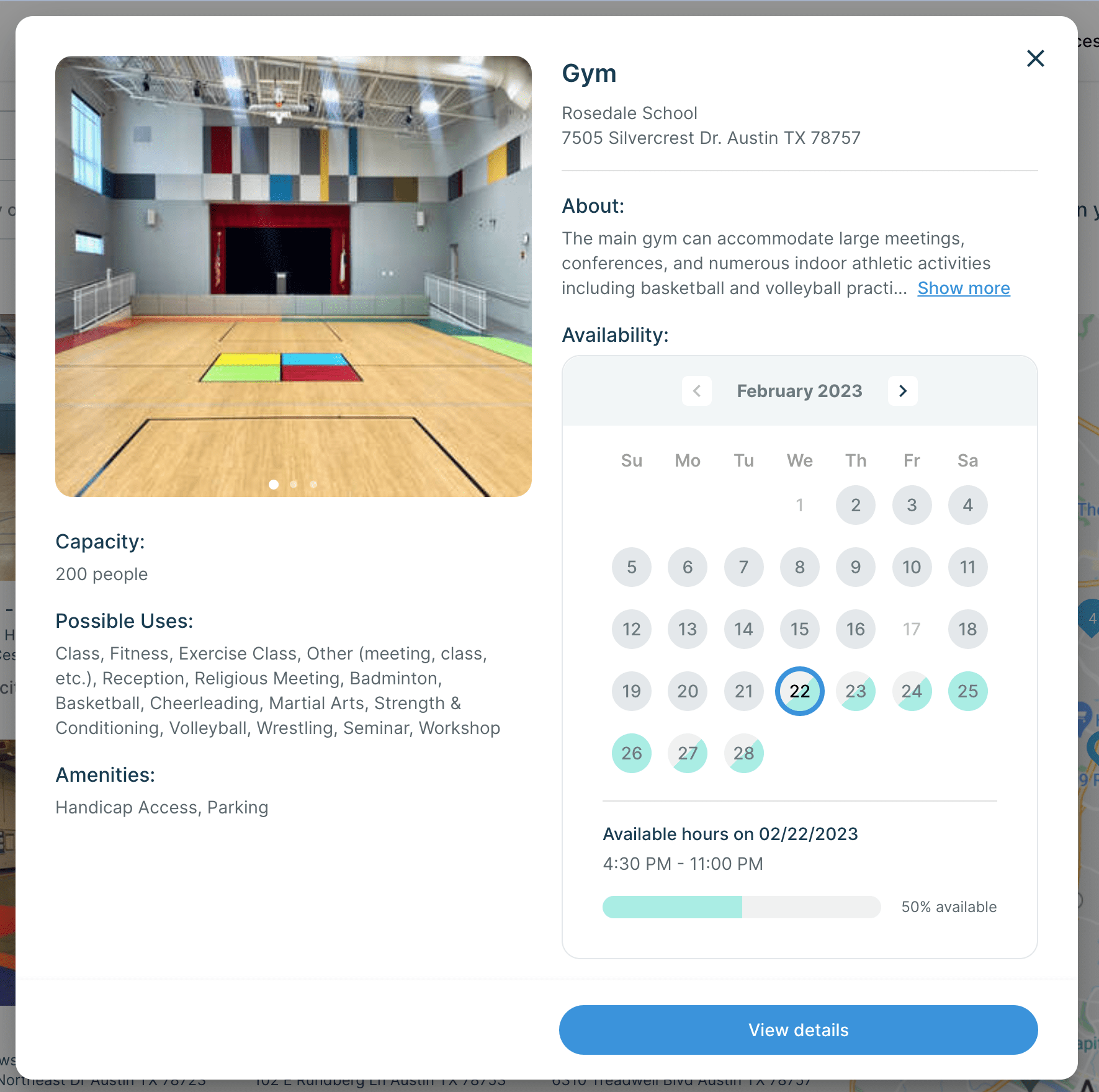 Once you perform a search, you'll notice the rounded "chips" to the right of the search box. These are quick facility type chips that allow you to filter and refine your search with the click of a button.
We've also added many more filters to help you refine your search even further and to more accurately deliver the results you're looking for. You can now filter your search results based on facility owner, distance, date and time, capacity, specific facility type, amenities and even equipment.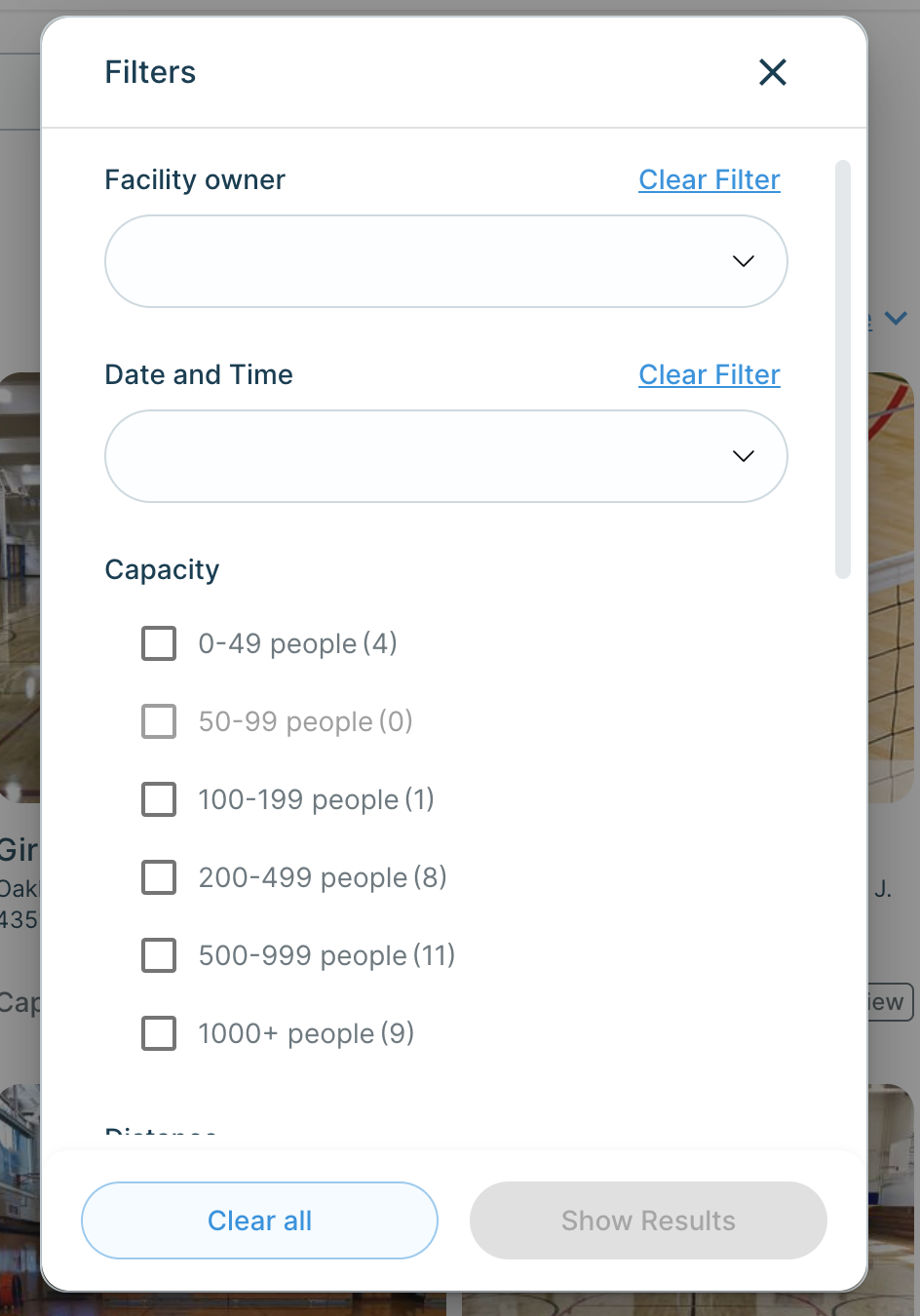 Thumbnails and Layout
In the search results listing area we've made some big changes too. Our thumbnails are now a little smaller to allow you to view more results on screen and we've added a toggle feature to hide the map allowing you to see even more thumbnails. The search results page is responsively designed to work with any size screen, large or small.
Additionally, we've added some nifty features to each facility result. Now, using arrows on any thumbnail, you can scroll through and view all the images for a facility without having to select it.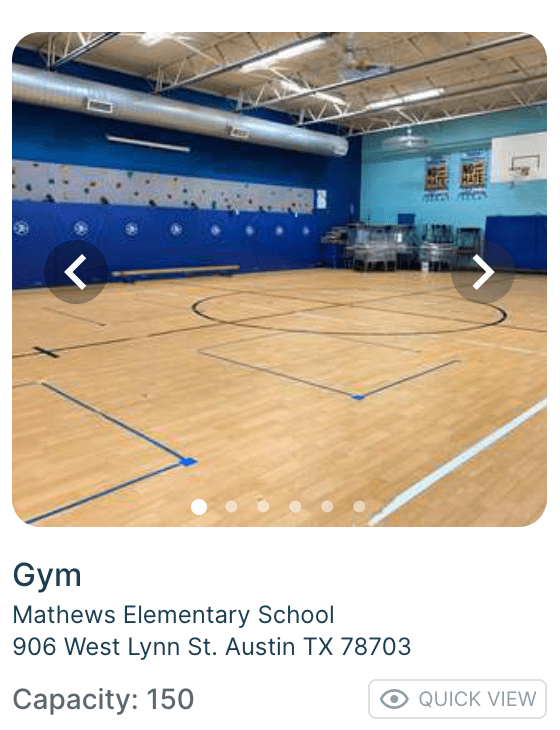 Using the new Quick View feature, you can now easily glance at more details for any facility including possible uses, amenities, and availability. Together, these two new added features allow you to stay on the search results page without having to navigate back and forth between multiple tabs in your browser as you browse facilities.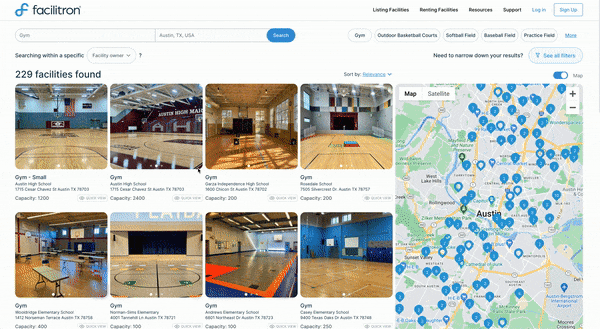 Map Improvements
The map itself has also been improved with some new functionality. Search results will now dynamically update as you zoom in, zoom out and move the map. Additionally, we've added numbers to the pins on the map, where multiple results are found in close proximity to one another. Clicking the number on the pin will zoom in to that point on the map and display the results. If there are multiple facilities at the exact same location, we will display a small overlay on the map, displaying a list of the facilities at that location.
Sorting your results
By default, results are sorted by relevance based on your search criteria. You can also sort result by distance, capacity and facility owner. We have added intelligence and machine-learning to make our search engine smarter and perform over three times as fast as before. And, as more and more searches are processed, it will continue to learn and improve upon the results that it returns over time.
Robust and Flexible Search Terms
One of the biggest enhancements we have made is at the heart of search itself — search terms. With this new release, we've added increased accuracy for search-term phrase-matching.
We've improved use cases for searches with synonyms and "like" searches. For instance, "basketball gym", "basketball court" as well as "field with turf" or "turf field". Additionally we've expanded search to include phrases like "I need a gym" or mixed activity searches like "football soccer."
Our new search also support things like:
Punctuation football/turf, (football turf)
Plurals (gyms, gyms in san jose)
Inverted terms (room music)
We're excited to launch our new enhanced search engine in the coming weeks with the new look and feel and additional usability features. We're confident that it will offer a faster, smoother and more enjoyable experience, and as always we will continue to improve and strive to delight you in everything we do.
---