Two words: Predictive Maintenance
Everything is bigger in Texas, including the list of responsibilities given to maintenance leaders in public school districts.
As we transition into 2023, school district leaders have regrouped and are now focused on adjusting their systems to post-pandemic life.
This means complying with new state and federal laws to optimize district facilities despite a lack of funding, facility deficiencies, inflated supply costs, rising energy bills, limited staff, and even more recently, safety concerns.
So how are Texas facility leaders supposed to thrive despite these issues?
Two words—predictive maintenance.
In this article, we've included three research-based pillars to help you get started in your predictive maintenance planning.
We'll be looking at how exemplary leaders:
Collect data
Use data
Communicate data
for predictive and preventative maintenance planning.
Let's get started.
How are you collecting your facility data?
The quality of any plan is only as good as the information on which it is based.
Yet, studies found that 31% of Texas districts conduct Facility Condition Assessments only once every 3-5 years.1
The National Center for Education Statistics (NCES) says these facility audits should be conducted annually- which is nearly impossible to do using outdated methods.
Only 31% of the Texas schools studied conduct an FCA once every 3-5 years.
51% of the schools used the information for preventive maintenance.
Only half of the schools had a long-range maintenance plan.
In fact, one of the first facility guides published in 1988 stated that collecting data about facilities "presents a moving target, in terms of maintenance."2
But you know what they say, necessity is the mother of invention.
One difference between preventative maintenance techniques in modern days versus when they originated during the Industrial Revolution, is, you guessed it - technology. Nowadays, facility managers are engaging in strategic partnerships with Computerized Maintenance Management Systems (CMMS) like Facilitron to learn how to use technology to optimize their operations using real-time data.
Predictive maintenance plans have revolutionized the process for routine facility audits by optimizing them with analytics – allowing maintenance managers to predict trends that impact future equipment performance while avoiding various costly problems that emerge from the "if it ain't broke, don't fix it" traditional way of doing things.
Analytics and machine learning are the future of building maintenance…It is time to take away the guesswork and give facility managers greater control.

—Facility Management Journal, 2022
How are you interacting with your facility data?
Studies found that 90% of Texas schools have a long-range maintenance plan in place. Yet, surprisingly, less than 50% of the schools use their facility condition reports to guide their long-range plan.1
Let that sink in.
How you use the data collected from your facility assessments is just as important as the data itself. Every piece of data has a story to tell, and for the plan to be "future-ready", it's essential to begin predicting the story your facility data will tell.
Effective facilities data management is worth a substantial investment. In fact, trying to manage a school district without such an effective audit system is by far the most expensive solution of all, because other resources (human, capital, and operational) might be squandered if they are not being directed by management plans based on accurate and timely data.

—National Center for Education Statistics
Maintenance plans should use facility assessments to revise current systems and create actionable insights.
That means no waiting until the HVAC system is compromised or disrupting classrooms to make emergency repairs. Using predictive techniques in the revision of the plan allows facility managers to address problems before they have a chance to affect building health and performance.
If you don't already have a long-term strategy, making it a goal for the coming year is a great way to ensure that your facilities are running efficiently is key. And you don't have to do all that alone- Facilitron provides software in addition to ongoing guidance in your long-term planning.
The greatest danger in times of turbulence is not the turbulence. It is to act with yesterday's logic.

—Peter Drucker, Father of Management Thinking
How are you communicating your facility data?
In the process of adopting predictive techniques, exemplary maintenance managers in Texas have taken advantage of the value stakeholders offer by involving them in the process and using data to communicate the needs of district facilities clearly.
When you have the data to back you up in these meetings- you bring value and you are the expert.
The numbers do not lie- and stakeholders know that. So, use that data to show off all the great work your department has been doing.
This collaboration is a chance to show reflect on how properties are doing and convey your professional opinion on how to address your district's specific needs. After all, you are the voice for the buildings you serve.
Facilities maintenance planning is not solely the responsibility of the facilities department. Effective planning requires coordination of resources and commitment at all levels of the education organization.

—National Center for Education Statistics
Lasting thoughts
Studies have found that school districts in Texas are struggling to keep up with evolving maintenance management practices, but that does not have to be your district.
We are all a little weary of the shift to technology-based systems needed to jump-start predictive maintenance techniques. That's why at Facilitron, we provide our partners with ongoing support and the tools to navigate this data and shift operations from reactive to proactive practices.
I'm a big-picture guy so I look at everything 3 steps ahead. Partnering with Facilitron is helping address my preventative concerns and asset issues by calculating the total cost of living for my equipment. The people at Facilitron listen to our needs and make adjustments based on what we ask and say. If we run into any issues, we just reach out and it's not like building the Great Wall of China to get support.

—Kevin Kwiatkowski- Assistant Director of Facility Services at San Antonio ISD
Maintenance managers, it's time to start predicting those work orders by partnering with a Facilitron to empower, not replace your staff. The districts that have made the most remarkable rebounds in the facility management industry do so with preventative and predictive maintenance planning.
To get started, consider your data. How are you collecting? How are you responding? How are you communicating?
To learn more about Facilitron's revolutionary partnership model and CMMS system visit facilitron.com.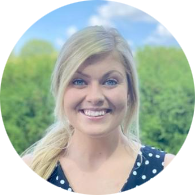 Chelsea Paschal is a marketing specialist at Facilitron and has four years of experience in strategic marketing and research. She also spent five years as a classroom teacher which instilled in her a passion for helping public schools thrive.
When she's not in the office, you can find her with her husband and 3-year-old-daughter making up jingles and chasing all things scenic.
---
Sources:
1 Lavy, S., & Bilbo, D. L. (2009). Facilities maintenance management practices in large public schools, Texas. Facilities, 27(1), 5-20.
2 Hamer, J.M. (1988), Facility Management Systems, Van Nostrand Reinhold Company, New York, NY.
3 RICH, S. (2022). TOTAL COST OF OPERATIONS: 4 STEPS toward a more comprehensive understanding. Facility Management Journal / FMJ, 32(6), 14–17.
4 PredictiveMaintenance - ELLIOTT, G. (2022). Healthy Buildings: THE ROLE OF PREDICTIVE MAINTENANCE. Facility Management Journal / FMJ, 32(6), 40–43.
5 U.S. Department of Education, National Center for Education Statistics, National Forum on Education Statistics.Planning Guide for Maintaining School Facilities, NCES 2003-347, prepared by T. Szuba, R. Young, and the School Facilities Maintenance Task Force. Washington, DC: 2003.
6 Kennedy, M. (2012). Stick with a School Maintenance Plan. American School & University, 84(10).
7 PredictiveMaintenance - ELLIOTT, G. (2022). Healthy Buildings: THE ROLE OF PREDICTIVE MAINTENANCE. Facility Management Journal / FMJ, 32(6), 40–43.