How to rent facilities at a school
No matter where you live in the United States, chances are you live pretty close to a school, or even multiple schools and multiple school district facilities. This may come as a surprise to many, but did you know that school district facilities, sometimes thought of more popularly as public event spaces, can easily be rented online? Public event spaces like gyms, pools, classrooms, basketball and tennis courts and even theaters and auditoriums are available to rent online and you can apply with just a few clicks! Whether you have an event in Austin, need a gym in the San Francisco Bay Area, or need a theater in Orlando, Facilitron can find you something to fit your needs and budget.
Facilitron offers a nationwide rental marketplace for public or community spaces often centered around the facilities or infrastructure owned by school districts. This bringing together of renters and spaces is a win-win for the community who are able to access great school facilities, and for school districts who are looking to utilize their idle capacity and generate revenue to recoup the costs of running and maintaining these facilities. Facilitron makes it easy to find and rent school facilities in your area, from theaters, auditoriums, pools, baseball fields, football and soccer fields and more.
Renting school spaces has traditionally been a hassle. In the past, making requests was a paper and pen process, requiring multiple in-person trips or emails and phone calls back and forth to school staff, working through dates, facility availability, payments, and back-and-forth over certificates of insurance. Not anymore. With Facilitron, you can find and rent through a user-friendly interface and customized booking forms that are designed to simplify the rental process and streamline communication between renters and schools. Additionally, Facilitron offers features like real-time availability calendars and automated payment processing, which can help reduce administrative overhead and make the rental process more efficient.
Finding and renting facilities on Facilitron is easy
It's easy to find and rent spaces near you, and it all begins with a search. You can easily search for an event space directly from our homepage on facilitron.com by simply entering the type of facility needed, like gym, theater, baseball field, or classroom, or by entering the type of activity, like basketball, dance, or religious ceremony. Facilitron partners with schools to offer a wide variety of different facility types to support all kinds of events, from small meetings and classes to large performances and sporting events and tournaments. You can even look for facilities at a specific school or district, if that's what you have in mind.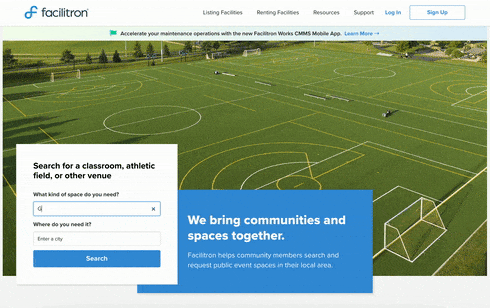 You can easily target your search by city and state, or by simply entering a zip code. Further refine your search results with filters that specify capacity or indicate specific dates and times — to narrow down your results to just the facilities that are available on your chosen dates. Our search results showcase available spaces using multiple photos and information about the facility including amenities and equipment.
Once you've chosen a facility or space, simply select the date and times you need it, and add them to the cart. You will need an account to rent on Facilitron and it's easy to enter your organization name and details and create your account. Facility operators like school districts set the prices and rates for facilities, and typically they have multiple rates to accommodate different types of groups — from commercial and non-profit to school-affiliated or other categories. Your account and organization type will help determine what rate your reservation will be assigned. Facilitron doesn't set prices for rentals.
After you go through the checkout process, if you're renting from a school district, your request will be sent to the school for approval. Administrators at the school will double check your reservation request and check for potential conflicts — for example, the high school water polo team made the playoffs and are now using the pool at the time of your reservation request. You will also typically provide insurance for your event, either your own insurance from a broker, or you insurance you can optionally purchase from Facilitron during the checkout process.
Check our some of the amazing facilities you can rent from across the country:
Elgin Football Stadium, Elgin, TX
Gilroy Olympic Pool, Gilroy, CA
Delmar Sports Complex, Delmar, TX
Here are some of the facility types available for rent on Facilitron:
Stadiums
Auditoriums/Theaters
Gyms
Tennis courts
Pools
Basketball courts (indoor and outdoor)
Baseball fields
Softball fields
Classrooms for meetings
Multi-purpose rooms
Facilities on Facilitron can be used for activities like dance recitals, drama performances, sporting events and tournaments, football, baseball, basketball and swim practice as well as one-off meetings, church services and religious ceremonies.
Ready to start your search? Head to facilitron.com and find a space for your next event!
Why use Facilitron
Facilitron helps to speed up the process of renting facilities. Previously what took days or weeks can now accomplished completely online from a laptop or mobile device. With a search using Facilitron, you can see a wide selection of available facilities for your event in your area, and easily compare facilities and pricing. Our customer support team is also available to help you with any questions you may have and can walk you through the process.
---